About
Artist Statement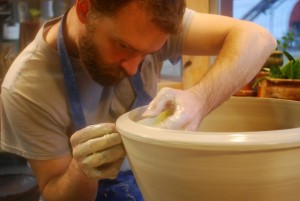 From concept to design to final firing, my process for making functional pottery requires an intimate relationship with both preparation and chance. I embrace the challenge of creating a smooth surface free of unintentional marks. This element of control is balanced by the unknowns of firing in a wood and soda kiln. People who use my pottery on a daily basis also engage intimately with the work. This final act of appreciation enhances its beauty and brings my creative process full circle.
I make lidded jars, small bowls and plates, keepsake boxes, oval vases, dinner plates, cups, and large vessels with specific attention to minimalist surfaces that curve and swell into sturdy, yet elegant, functional pottery. Ranging in size from several inches tall to nearly a foot-and-a-half, this work always features one or more of my signature design elements: squared panels and corners that emerge softly from full-bodied curves; fat, square knobs that balance atop squared lids; or lipped bases and rounded rims that complete a form to its very edges.
These features enable me to create interesting surfaces perfect for highlighting natural colors that result from firing. As each piece is fired, it is subject to the whim of wood ash, flame, and soda vapor. The result is a one-of-a-kind visual landscape: varied tones of deep red, soft peach, light cream, bronze, olive green and muted gray spread and overlap naturally, fading and intensifying in swatches and pools. Up close, some pieces appear dappled or freckled in layers of color. From afar, surface patterns evoke a solar field, layers of soil, or bright patches of rock. In the end, the combination of intentionally crafted forms and an uncontrolled atmosphere for surface design brings my work to life.
Biography
William Baker is a full time studio potter living in Bakersville, North Carolina. Coming from college at the University of Puget Sound in Washington, he stumbled into clay and has been pursuing this passion for the past 17 years. He was a Resident Artist at the Odyssey Center for Ceramic Arts in Asheville, North Carolina, and has assisted several classes at the Penland School of Crafts. William was a Resident Artist position at the EnergyXChange, in Burnsville, North Carolina. Since 2013, He and his wife, also a potter, Joy Tanner, work at their studio, Wood Song Pottery in Bakersville, NC where they work full time.  He spends most of his time creating pottery one piece at time on the potter's wheel, using a wood and soda fired kiln as one of his most important tools.  William also teaches pottery classes and build kilns for other potters, he is a member of the Southern Highland Craft Guild, the Toe River Arts Council and exhibits his work in regional and national galleries.  He was a recipient of the Regional Artists Project Grant, two Merit Awards from a Toe River Arts Council Exhibition, a Best of Show Award in the Weaverville, NC, Arts in Autumn Craft Fair, and an Honorable Mention at Artisphere Arts Festival in Greenville, South Carolina. He was a founding member of the cooperative gallery, Mica | Fine Contemporary Craft in Bakersville, NC from 2010-2015.