The Holidays at MudFire
While waiting for the unloading of the first soda firing, I remembered that there are a few events coming up this holiday season.  I sent some pots down to Atlanta for a show that just began down at the MudFire Studio and Gallery.  Below are the full details of the show including the extensive list of artists, directions, links, everything you need.  And if you can't make it down to Atlanta this December, just call 'em and ask about shipping.
Holiday Studio Sale 2010
Holiday Party and Artist Reception December 4
Sale Continues Through December 23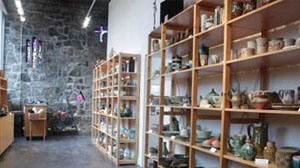 Visit MudFire Gallery during the holiday season for the annual studio pottery sale,  where a great selection of work can be seen and purchased through December 23.
The exhibit features a wide range of styles and price points, making it easy to find the perfect gift for anyone. It's a terrific opportunity to give meaningful, unique gifts for your friends and loved ones.
Quality handmade items carry the positive, creative spirit of their maker. Don't simply give a gift, pass on good energy. Handmade is always the best choice!
On Display With New Work Added Daily
Opening Reception December 4
Open every Thursday, Friday, Saturday, Sunday & Monday
12:00pm – 8pm

Participating Artists
Annette Gates – AJ Argentina – Allya Macdonald – Allison McGowan – Amy Sanders – Barbara Chadwick – Becky & Steve Lloyd – Clay Fetish Pottery – Cara Gilbert – Christine Bentley – Cynthia Bringle – Courtney Martin – Emily Reason – Bridget Fox – Gay Smith – Gwen Fryar – Heather Knight – Jennifer Graff – Julia Galloway – Jay Jensen – John Roberts – Joy Tanner – Joseph Pintz – Joey Sheehan – Julie Wiggins – Jeanette Zeis – Kathy Phelps – Kyle Carpenter – Kristen Kieffer – Karen Newgard – Keith Phillips – Kevin Snipes – Linda Arbuckle –
Linda Christianson – Lisa Pedolsky – Lora Rust – Lori Theriault – Liz Zlot Summerfield – Maria Andrade Troya – Mark Issenberg – Marlene Jack – Mark Knott – Michael T Schmidt – Lisa Orr – Patty Bilbro – Ryan Greenheck – Ronan K. Peterson – Ryan McKerley – Ron Philbeck – Becky Strickland – Susan Beiner – Steven Hill – Shadow May – Shane Mickey – Sequoia Miller – Tania Julian – Tania Julian – Tina Gebhart – Vince Pitelka – Vernon Smith – Will Baker–
and the resident artists of MudFire Clayworks –
MudFire Clayworks Location and Hours
175 Laredo Drive, Decatur, GA 30030
Regular Gallery Hours
Open Noon to 8:00 pm
Thursday-Friday-Saturday-Sunday-Monday
Please call us with questions at 404-377-8033.
Loads of information and images available at www.mudfire.com